Many thanks for all your supportive comments over the last few weeks. They have buoyed me up and kept me going. I am in a strange transition at the moment. For the first time since Greg died six weeks ago, I am officially on my own; alone; widow of this parish; a singleton, for Kay went back to university up North this morning. I took her and her three cases of clothes, work, more clothes, laptop and more clothes to the station and put her on the Inter-City train. We decided to get a taxi across London to avoid having to lug the heavy cases up and down into the Underground. The taxi driver took us along the scenic route in today's glorious spring sunshine - past Buckingham Palace just as they were Changing the Guard;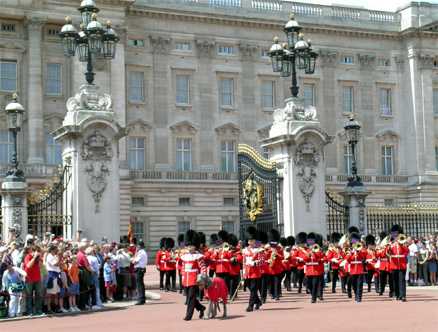 past

Horse Guards

Parade;
across Trafalgar Square;
past the various theatres, pubs and specialist bookshops in

Charing

Cross Road ;
across Oxford Street;
i
nto

Bloomsbury and past the British Museum.
There's no better place than London in all its glory in the sunshine. It made my parting with Kay extra special and cheered an otherwise emotional moment. St

Pancras

Station was heaving with people trying to grab the last seats on the

Eurostar

train back to Paris or Brussels, as air travel is still disrupted by the cloud of ash spewing out of Iceland's

Eyjafjallajoekull

volcano. Fortunately Kay had booked a seat on her train up to Yorkshire, so we could take our time getting there. All too soon, I was waving her off and making my return journey home alone. I won't pretend it didn't seem strange, opening the front door and knowing there was

nobody

else inside. Even stranger was to cook a meal just for myself and sit down alone to eat it.

Fortunately

Snoopy more than made up for it, by bouncing around to greet me and putting in the occasional wolf howl for extra effect. Then, just when I wondered what I might do to while away a few hours in the afternoon, there was a knock at the door and there stood a woman and her husband who used to live next door to me thirty years ago and whom I have not seen in almost as long. We do however still stay in Christmas card contact and I had written to her to tell her about Greg's death. They came bearing a bunch of flowers too.It was lovely to chat and catch up on thirty years' news. It is amazing how a lot of good has come from Greg 's death. So many people we had almost lost contact with have rallied round to support me. My somewhat shaky faith in human nature has been restored.

As I write, it is growing darker and I have been putting lights on all over the house. It will seem strange that when I turn them out, there will only be Snoopy (and maybe the cat) to wish goodnight to. It's going to take some getting used to.