Sorry to those of you waiting for the next instalment of my story, but I had to post this one now for it to be relevant to the time of year, but will resume my story in the next post....
Promise!
Much has been said in the last few weeks about the 90th anniversary of the end of the First World War. With Remembrance Sunday and Armistice Day having just passed, it has been impossible not to notice the abundance of poppies commemorating the deaths of much loved young men who perished in wars over the last hundred years. My own two grandfathers, I might add on opposing sides in World War One , were lucky to survive yet bore their injuries for the rest of their life. My English grandfather, fighting at Ypres, the Somme and Paschendale, lost an eye and had severe shrapnel injuries to his leg, when a bomb exploded, killing his artillery horse. My German grandfather, also on the Western Front, was wounded in the leg and was awarded the German Iron Cross for his bravery. That was
before
Hitler kicked him out of Germany in 1939 (see my post of 16 October). When my mother met my father and they began to plan their wedding, my two grandfathers met for the first time and joked (in gallows-style humour), " I bet you're the one who shot me!!"
But it is not about the men and women who sacrificed their lives or endured pain during the world wars that I want to write about today. Last week when I was in Central London for my medical, I took a bus down Park Lane - a street I don't visit very often. I was surprised to see a memorial in the central reservation of the road that I had not seen before. It was already getting dark and I was on the wrong side of the bus, but the illuminated memorial caught my eye. Unfortunately, I could not see what it was all about.
I investigated it on the internet when I got home and discovered that it is a memorial dedicated to all the animals that served and died alongside British and allied forces in wars and campaigns throughout time. One of the inscriptions simply reads "They had no choice". When you think about it, war is terrifying enough for mankind, but to animals who understand nothing of the politics and simply have no choice but to participate in loud, frightening situations, it must be a thousand times worse. You have only to think of how animals respond to thunder or fireworks to appreciate their terror.
The
Animals in War Memorial
is located at Brook Gate, Park Lane,
on the edge of London's Hyde Park
and was designed by leading English sculptor, David Backhouse
. It was apparently unveiled on 24 November 2004 by the Princess Royal.
Picture 1 (above) shows the north side of the monument with a horse and a dog.
Picture 2 (below) shows the south side of the monument with two heavily-laden mules.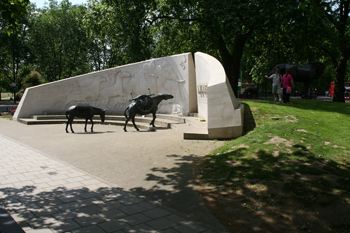 picture 2
I could probably do no better than to refer you to
Wikipedia
and the memorial
website.
Both have much more information and lovely pictures of the monument.